Meet Our "Influencer of the Week," Kimberly Weitkamp!
|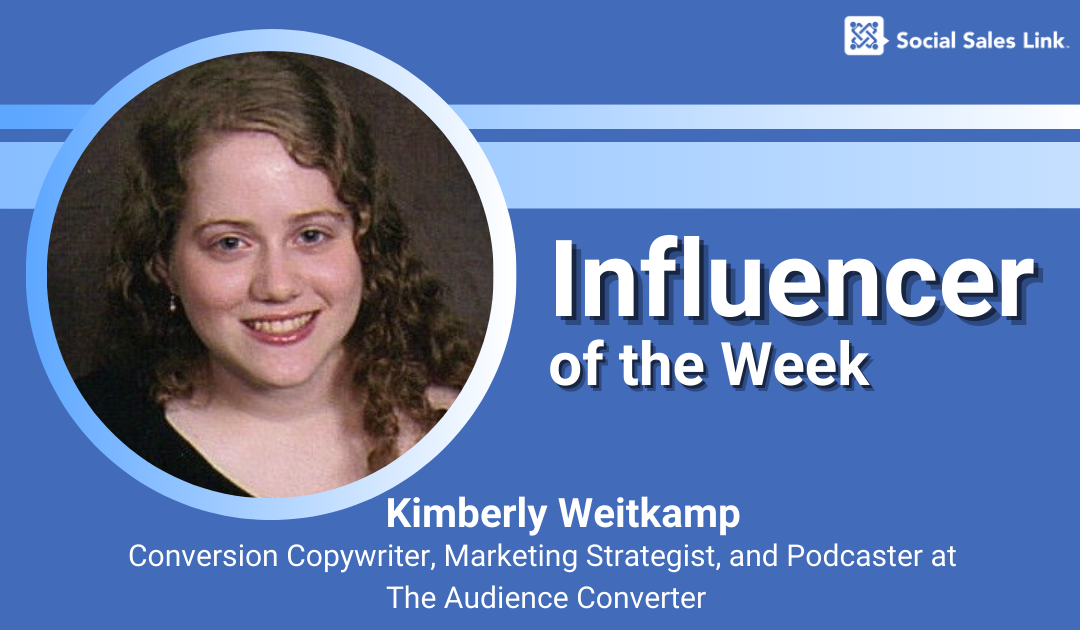 Kimberly Weitcamp, Conversion Copywriter, Marketing Strategist, and Podcaster at The Audience Converter
Kimberly Weitkamp is a marketing strategist, podcaster, and conversion copywriter. As the creator of the Audience Conversion Method and host of the Audience Converter Podcast for Community Leaders, she helps coaches connect, cultivate and convert their communities. Kimberly works with her clients to put the right message in front of the right person at the right time (especially in emails!). She's helped people increase their open rate up to 80%, hit their first-ever 6-figure launch, and double conversions on their landing pages. She loves talking marketing, travel, and all things sci-fi.
Connect with Kimberly on LinkedIn, Twitter, Instagram, or through her website.
Kimberly's Insights

What would happen if up to 80% of people on your email list actually opened your emails?
Often times, people join our list without knowing much about us. They know we can give them a quick tip on a particular topic because they asked for access to a lead magnet from us. Beyond that, they don't know who we are, who we serve, or how we can make a difference in people's lives. Imagine this: A person opts into your list for a free guide, checklist, or mini-course. The very next email they receive has this subject line: Last Chance! Doors closing for program at midnight…
This is a jarring experience. Often, it's asking for a sale too quick AND it can turn people away. People join our list all the time. There's no way of knowing what they'll experience. Instead of dropping brand new subscribers into your next email blast, create a curated new subscriber experience. Create a social feeling in your emails by talking TO your new subscriber, answering their unasked questions and taking a little time to build the know, like, and trust factor. I call these emails a welcome series, and they are created to guide new subscribers to a specific call to action.
Over the course of five to seven emails, build a connection with your subscriber. Each subscriber is a real person, with a real-life and other problems, not just the one business or life concern that brought them into your world. This is your opportunity to show you're a real person too. You can give a little taste of what it's like to work with you and what to expect from being on the list while showcasing your expertise. When you use a welcome series, you guide people from strangers to ready to work with you and/or learn more.
If you can get your subscribers to open two to three emails soon after joining your list, they're a lot more likely to remain highly engaged and active for a long time to come.