Meet Our "Influencer of the Week," Casey Jacox!
|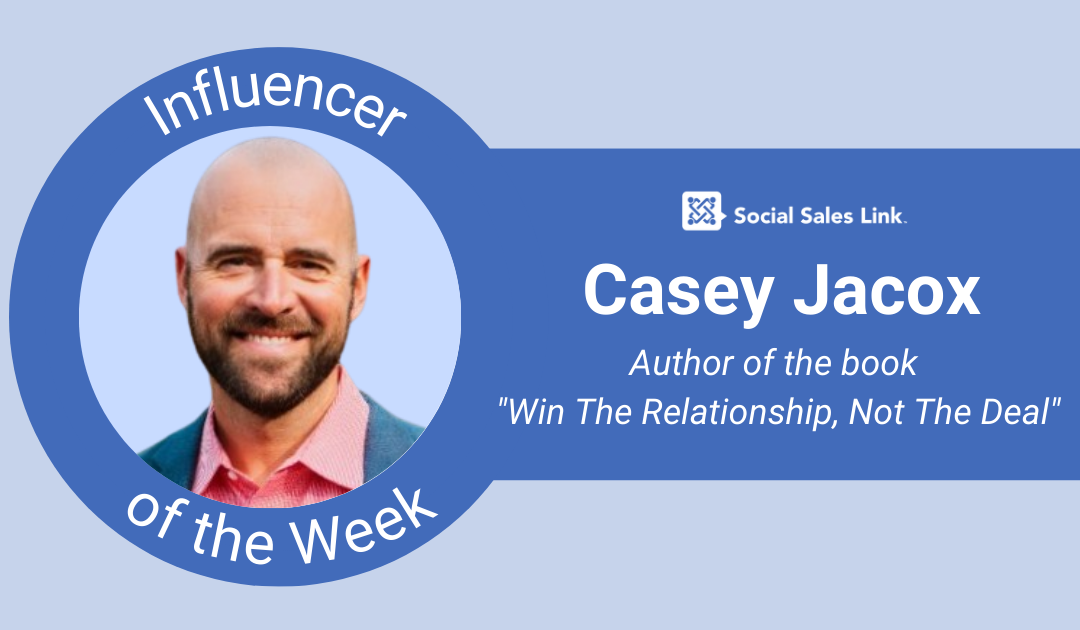 Casey Jacox, Author of the book "Win The Relationship, Not The Deal"
Casey Jacox is a motivational and performance-based speaker and the author of the book "Win The Relationship, Not The Deal." He is also a sales and leadership executive coach and a host of "The Quarterback DadCast," a weekly podcast for dads – but that's just the simple explanation.
In his practice, Jacox helps individuals and teams learn new habits of success and unlock the skills they already have—skills that might just be dormant, like humility, vulnerability, and curiosity. In over 20 years of his professional career as a #1 seller, these are the emotional skills he often focused on that helped him win more relationships, internally and externally.
Connect with Casey on LinkedIn, follow him on Twitter and Instagram, and subscribe to his YouTube channel. You can also visit his website to learn more about what he does.
Casey's Insights

First and foremost, always focus on winning people. When you show up prepared, on time, curious, and truly listen to build authentic relationships, you will dramatically increase the chances of growing your business.
These are the type of skills that will never go out of style and have been around for years! If you're looking to become elite in your field, then each and every day, you need to do the little things that others don't want to do. A good example is always sending a meeting recap to your client or prospect, or better yet, sending a handwritten note thanking them for their time.
Additionally, use your CRM daily and take the time to document what you learned in a meeting, and then always schedule a follow-up action to move the relationship forward. After spending 20 years as a B2B sales & executive leader, these are the little things that I saw help people achieve big results!
Join our FREE Content Library and gain immediate access to our vault of LinkedIn training content. Get your daily dose of LinkedIn sales training or Sales Navigator training, with various webinars, videos, podcasts, and ebooks to choose from. We're always publishing new content!