Meet Our "Influencer of the Week," Jack Hubbard!
|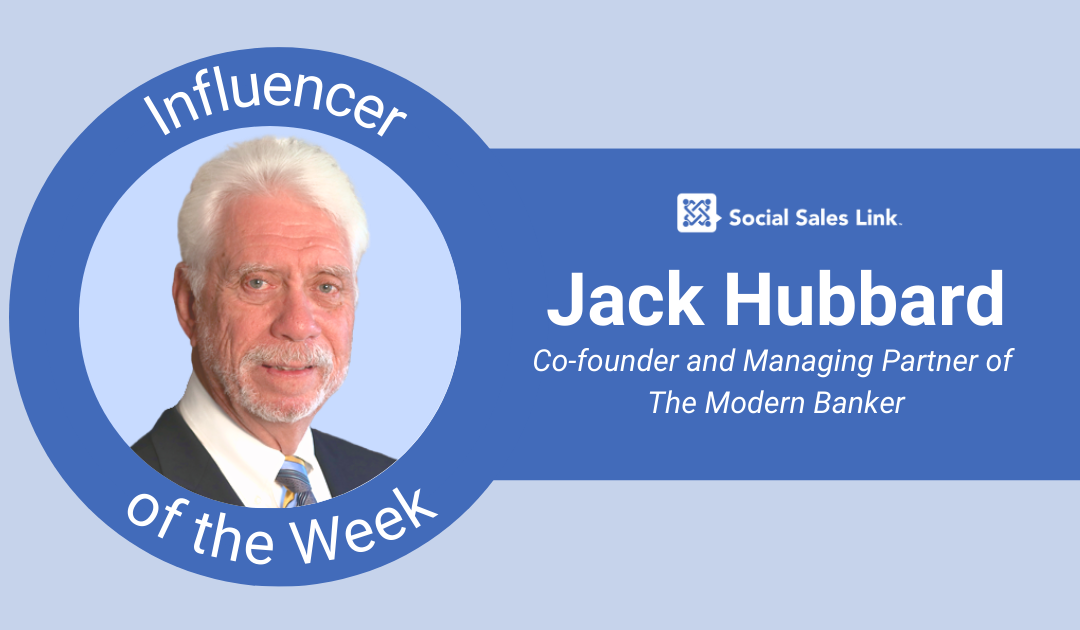 Jack Hubbard, Co-founder and Managing Partner of The Modern Banker
Named one of the nation's top 100 most trusted business leaders by Trust Magazine, Jack Hubbard has shared his passion for what it takes to build trust-based sales initiatives in banking since 1973. With nearly 80,000 financial services professionals personally trained and coached, Jack is one of banking's most sought-after facilitators. An author, classroom instructor, and thought leader, his expertise and out-of-the-box thinking put him in great demand when the subject matter is bank-to-business sales and sales leadership.
Jack is a regular keynote presenter for state and national banking associations and has taught at 13 of the nation's top banking schools, where his humorous style and street-savvy approach continue to earn him top honors. Hubbard served 32 years as an award-winning faculty member of ABA's School of Bank Marketing and Management. He was also a popular, two-decade instructor at ABA's Stonier Graduate School of Banking. He is a top-rated instructor at the Graduate School of Banking in Madison, WI, and The Perry School of Banking. He is also the Program Director of GSB's Sales and Marketing School.
A prolific writer, Jack's content is regularly featured on LinkedIn and in many industry publications.
Jack is also the Co-founder and Managing Partner of The Modern Banker and serves on the Board of Directors of St. Charles Bank & Trust, a $2 billion affiliate of Wintrust Financial in Illinois.
Connect with Jack on LinkedIn or visit his website to learn more about his work – what he does and the many solutions he offers for professional bankers.
Jack's Insights

Trust, education, and value are keys to building long-term partnerships with clients. To articulate that in an authentic way, try the "3 Before 8" method. This simple concept allows you to message three 1st Degree LinkedIn connections daily with something of value. The value add arrives in their Messaging section before 8 AM. Nothing to do after that. Let them respond. If you did this each of your 260 work days, you would touch 780 people without being salesy. This is the essence of trust-based relationships.
Join our FREE Content Library and gain immediate access to our vault of LinkedIn training content. Get your daily dose of LinkedIn sales training or Sales Navigator training, with various webinars, videos, podcasts, and ebooks to choose from. We're always publishing new content!