Meet Our "Influencer of the Week," Janice Porter!
|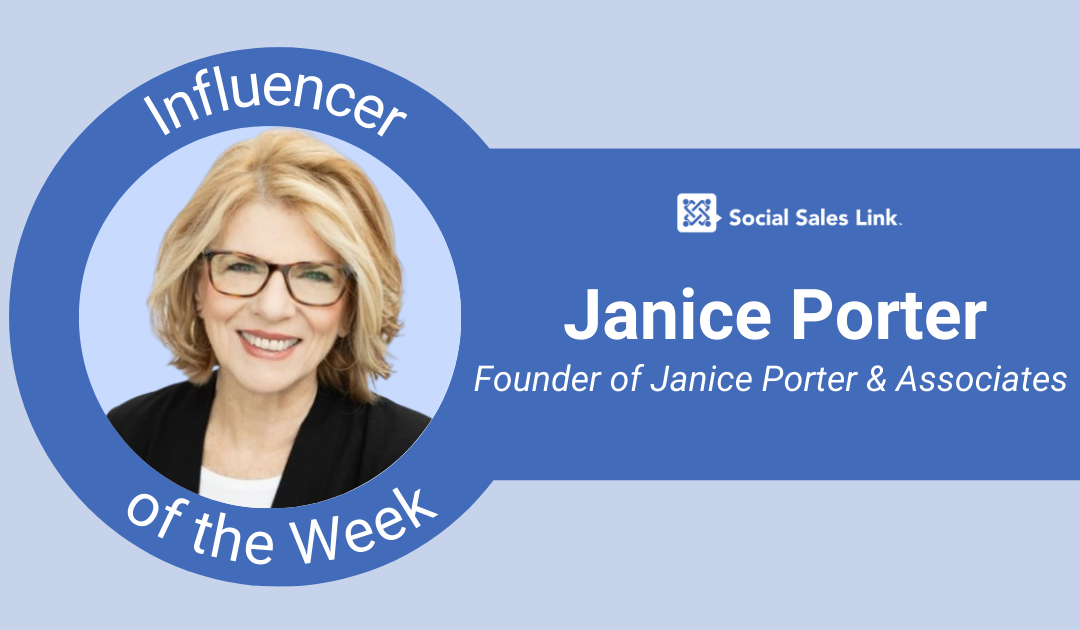 Janice Porter, Founder of Janice Porter & Associates
Janice began her career as a teacher, was a corporate trainer and has now been in business for herself for several years.
For Janice, it's all about relationships! First and foremost is her family—she is very proud of her two daughters and appreciates the support of her husband in all that she does. Having an innate curiosity, she has leveraged that into building business relationships and teaches others how to do the same. Connecting people is a skill that Janice uses when needed—and only when she feels that it will be managed most professionally—as she values her connections.
Her passion is working with people who want to build their businesses through relationship marketing and networking, and she does that using both online and offline strategies. LinkedIn training is a big part of Janice's business. She believes anyone in business or looking for a new position needs to have a professional LinkedIn profile. Janice also thinks LinkedIn is a powerful, underutilized platform for attracting new clients and lead generation. Staying connected and nurturing relationships comes next.
Janice shows her clients how to implement a tangible touch follow-up system with their own clients, prospects, and associates to stay in front of them while celebrating and appreciating them consistently at the same time. Janice really values the friendships and business relationships she makes, and when she meets someone new, she is constantly thinking, "How may I support you?"..
Hear more from Janice on the Relationships Rule Podcast, available on iTunes, Stitcher, and most other podcast platforms.
Connect with Janice on LinkedIn, follow her on Instagram, and subscribe to her YouTube channel. You can also visit her website to learn more about what he does.
Janice's Insights

You may have heard that "the money is in the mailbox" when referring to the best way to use LinkedIn—I couldn't agree more! And I do believe this statement can be valuable in so many ways.
From the initial outreach to connect with someone and beyond, it is all about paying attention to them- and details are important. I always suggest to my clients to be curious when meeting someone new. As soon as your connection request is accepted, you want to show them that you've been paying attention to what is on their profile by leaving a comment on something or asking a question about something that caught your eye. Build your rapport, give value as the conversation deepens, and aim to take your conversation off of LinkedIn to a Zoom call or in-person meeting.
BONUS: I believe there is a magical way to deepen a new relationship quickly – and that is to send a tangible touch—a REAL card in the mail. You can send it after the video or in-person meeting with them. You will then have an opportunity to ask for their mailing address and send a card immediately following your conversation. You won't believe how much value that card can add. They won't be expecting it! You are sending out kindness (a bonus in itself), and when they receive the REAL card in the mail, it immediately takes the person from their head to their heart! It also makes you stand out from the crowd, making it easy for them to remember you and your kind gesture.
My motto is: Stay Connected, Be Remembered! It has served me well.
My gift to you: FREE eBook: 7 Steps to Build Solid Business Relationships that Last & Grow Your Business
Join our FREE Content Library and gain immediate access to our vault of LinkedIn training content. Get your daily dose of LinkedIn sales training or Sales Navigator training, with various webinars, videos, podcasts, and ebooks to choose from. We're always publishing new content!