Meet Our "Influencer of the Week," LaTisha Styles!
|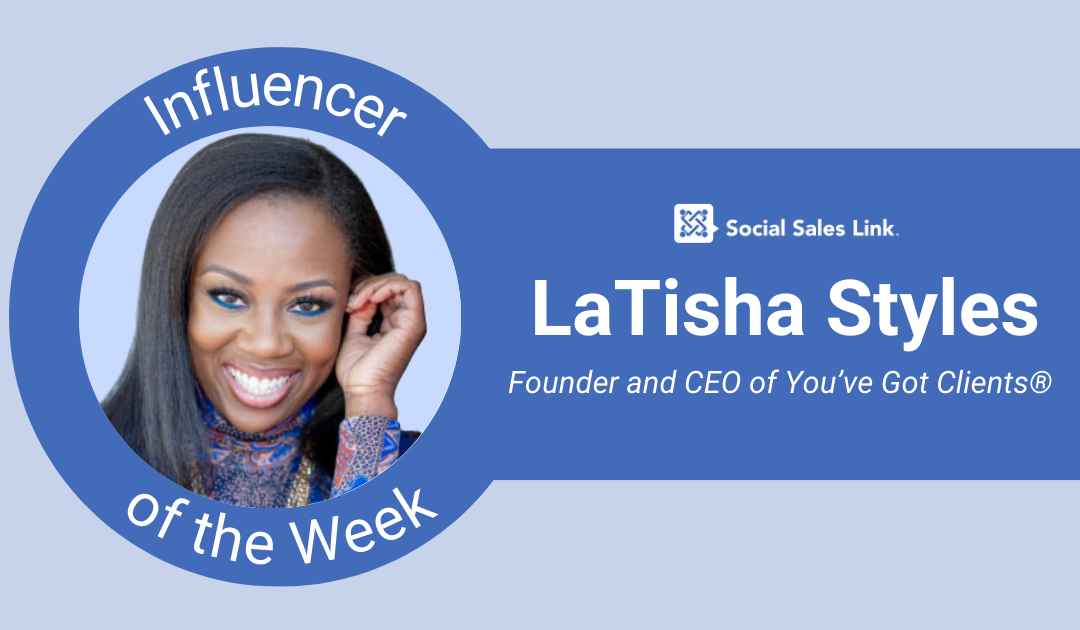 LaTisha Styles, Founder & CEO of You've Got Clients®
LaTisha Styles is a speaker, author, coach, and Online Marketing Certified Professional®. She is the Founder & CEO of You've Got Clients® and the author of the forthcoming book Assume the Throne – 4 Steps to Unlock Your True Identity and Power as a Leader.
To her audience of over 88,000 followers, subscribers, and regular viewers, LaTisha provides tips, guidance, and insights on marketing, branding, content creation, mindset, and more. Her work has been featured in notable publications, including Forbes, Fast Company, and Business Insider.
Connect with LaTisha on LinkedIn, subscribe to her YoutTube channel, or visit her website to learn more about her work.
LaTisha's Insights

I find that a lot of my clients get tripped up on the concept of selling overall. They find themselves feeling really frustrated because they know they have what their ideal client needs. They know how to help them but can't seem to make that connection and get those clients to say "Yes."
In most cases, it's not your product or service that's the issue, it's your approach. This is why I am sharing my 3 keys to making all the sales you want, no matter what business or product you offer.
1) Confidence is the first key to making all the sales you want. That means you've got to be 100% clear on the outcome that you're providing. You also have to know how to communicate that to your ideal client. If you're not clear on the outcome, or the transition, then your client won't be either.
2) Creativity is the second key to making all the sales you want. That means creating an offer that speaks to your ideal client and only them. Determine what they specifically want, and create a juicy offer they can't refuse. Research your ideal client, what they're excited to purchase, and how they speak about their problem.
3) Closing is the third key to making all the sales you want. Closing can be a long process that happens over a number of steps. If your marketing is good, each step in your marketing will be closing that ideal client on one tiny yes. The idea behind making the sale is that every "yes" that you can accumulate contributes to that final easy "yes" at the end.
Author, Robert Cialdini, talks about how people are driven to be persistent in all areas of their life. Meaning if you say "yes" one time to one person, and they ask you something again, it's likely that you're going to say "yes" again.
Join our FREE Content Library and gain immediate access to our vault of LinkedIn training content. Get your daily dose of LinkedIn sales training or Sales Navigator training, with various webinars, videos, podcasts, and ebooks to choose from. We're always publishing new content!