Meet Our "Influencer of the Week," Susan Bell!
|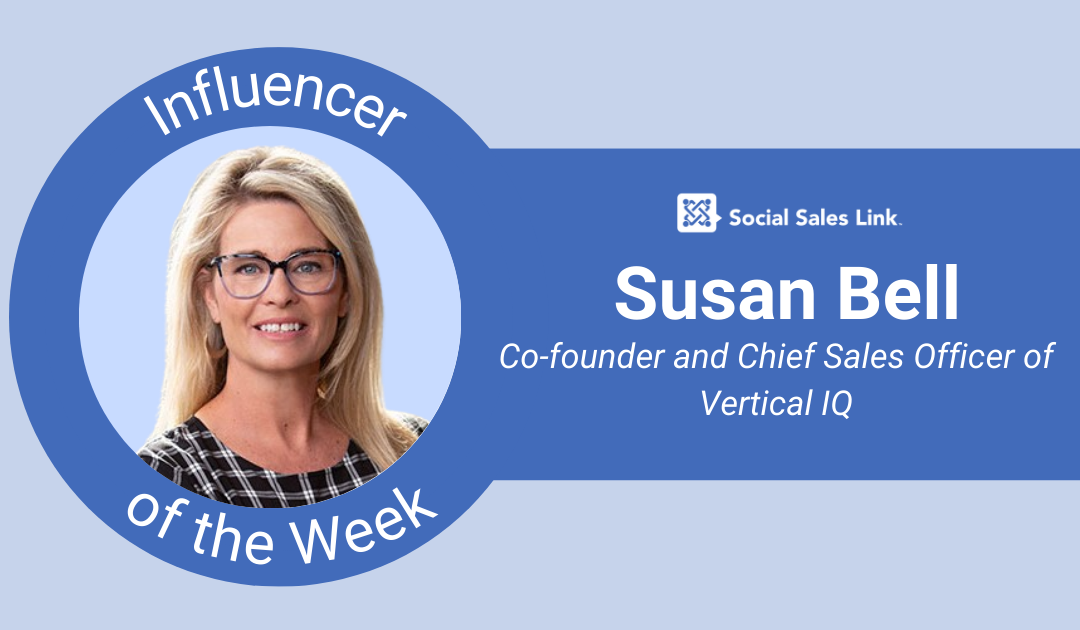 Susan Bell, Co-founder and Chief Sales Officer of Vertical IQ
As a Co-Founder and Chief Sales Officer at Vertical IQ, Susan Bell focuses mainly on business development and training and coaching the sales team. With more than 22 years working in the business intelligence space, she is driven by building long-lasting client relationships while leading new and experienced salespeople.
Connect with Susan on LinkedIn, follow her on Twitter, or visit her website to learn more about her work.
Learn more about how Vertical IQ's Industry Intelligence can cultivate a Culture of Curiosity for your team of sales professionals here.
Susan's Insights

Put in the effort to create a Culture of Curiosity for your sales team. Being curious in your approach to conversation expresses that you have a genuine desire to learn more about your customers as people and are invested in their circumstances and livelihood. It is so important to show that you are committed to listening intently to their story, whatever that story is. I like to call this approach the ABC method – "ABC" stands for "Always Be Curious."
There are a few steps you can take to ensure this happens. They are:
* Asking the right questions and caring about the answers
* Doing your homework thoroughly to build trust and credibility
* Making the buyer experience more fun and less sales-y
* Acknowledging and recognizing the humanity on the other side of the interaction
One of my favorite quotes is perhaps Maya Angelou's most famous: "I've learned that people will forget what you said, people will forget what you did, but people will never forget how you made them feel." I think this is something every sales professional should be mindful of when reaching out to prospects: Are you being your authentic self? What is the tone of your interaction? Are they being afforded the opportunity – and the comfort – to articulate their challenges and pain points? These are all things you should consider BEFORE you pick up the phone or prepare for a face-to-face meeting so you can build trust at the start of the interaction.
Vertical IQ can help with the "homework" aspect of all of this. Our Role-Based Prep Sheets – available for each industry on our platform – knock out the research for you by providing call prep questions specific to your prospect's industry and title, as well as the answers you should expect to hear from them. This intentional approach – as opposed to being reactionary – invokes an innate sense of curiosity. Just like you're an expert in sales, your prospect is an expert in their industry; they feel appreciated and heard whenever the conversation is centered on their work.
At the end of the day, it all comes down to this: Recognizing your prospect's humanity and that their experience is worth talking about. Although you want to avoid keeping interactions product-focused, weaving your value proposition into how your solution addresses the challenges and needs they express to you is crucial. You need to demonstrate this level of care and understanding in order for the interaction to be successful – and for the relationship to be sustained.
So stay curious! This approach pays dividends in terms of being "not just another salesperson" and sustaining those enduring relationships. It will pay off in your book of business as well.
Join our FREE Content Library and gain immediate access to our vault of LinkedIn training content. Get your daily dose of LinkedIn sales training or Sales Navigator training, with various webinars, videos, podcasts, and ebooks to choose from. We're always publishing new content!