Meet Our "Influencer of the Week," Husam Jandal!
|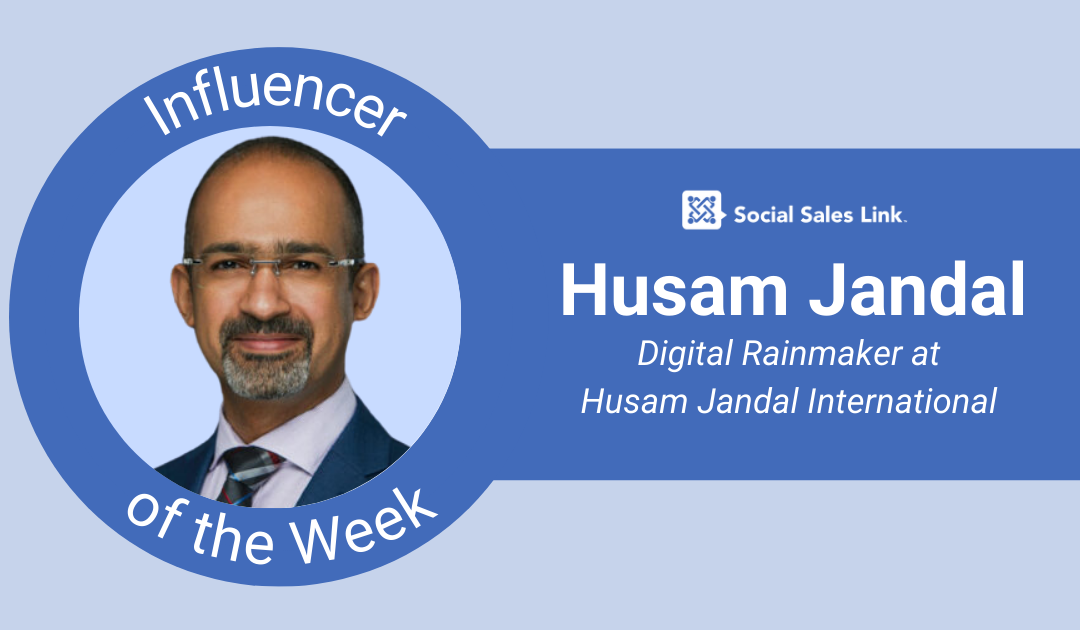 Husam Jandal, Digital Rainmaker at Husam Jandal International
Husam Jandal is a world-renowned business strategist and marketing consultant who helps businesses drive growth through innovative marketing and business transformation strategies. He is a thought leader, published author, and public speaker with more than 20 years of experience in the digital space, which includes training Google Partners, teaching e-businesses at the master's level, receiving multiple awards from the Web Marketing Association, Inc. (WMA), and earning many glowing reviews from businesses of all sizes. Husam has also developed effective growth strategies for Fortune 500 companies, such as American Express, PepsiCo, Sanofi, HSBC, and Thomson Reuters, to name a few.
Connect with Husam on LinkedIn, follow him on Twitter and Instagram, and subscribe to his Youtube channel. You can also visit his website to learn more about what he does.
Husam's Insights

Referral partner programs are digital marketing powerhouses, allowing businesses to increase sales dramatically and improve metrics like retention. I've personally seen these programs help businesses scale exponentially as a digital marketing consultant. However, many businesses struggle in this area. They don't always know where to start or have trouble identifying why their referral partner program isn't delivering the results it should.
To get a better perspective, imagine someone saying this about you:
"If you need help, I recommend talking to [Your Name]. Always professional and reliable."
It's catchy, right? A personal recommendation is the most powerful form of marketing, with eight in ten people saying they trust word-of-mouth more than anything else. Research also shows that referred clients also behave differently than others. They:
– Are five times more likely to convert. – Are more loyal, churning 16% to 37% less than their counterparts. – Spend more and have a lifetime value 25% higher than others. – Are 25% more profitable. – Refer twice as many new clients as others. – Deliver 60% greater return on marketing investment.
In other words, developing a formal referral partner marketing program is one of the most effective ways to spur growth.
Tips for Setting Up a Successful Referral Partnership Program
(1) Design the program, including:
– Program details and referral partner incentives.
– Segments or types of referral partners, such as current clients, businesses that share an audience, fans of the business, or even competitors who are unable to help certain types of clients.
– Any technology needed to manage the program.
(2) Build a funnel. The full funnel should include:
– Landing page(s).
– Signup form.
– Light intro email to generate interest.
– Detailed intro email to move leads through the funnel.
(3) Formalize the agreement.
Referral partners should receive a full onboarding experience with a demo or presentation outlining the company and program and a formal agreement.
(4) Equip partners for success.
All onboarded partners should receive:
– Web page content. – Social media posts.
– An email template to announce the partnership.
– Ongoing communication.
If you know someone who could benefit from this tip, please share it with them. 😉 If you have any questions about creating a referral partner program or digital marketing in general, I'm happy to help. Feel free to contact me through my website: https://husamjandal.com
Join our FREE Content Library and gain immediate access to our vault of LinkedIn training content. Get your daily dose of LinkedIn sales training or Sales Navigator training, with various webinars, videos, podcasts, and ebooks to choose from. We're always publishing new content!