Meet Our "Influencer of the Week," Ian Moyse!
|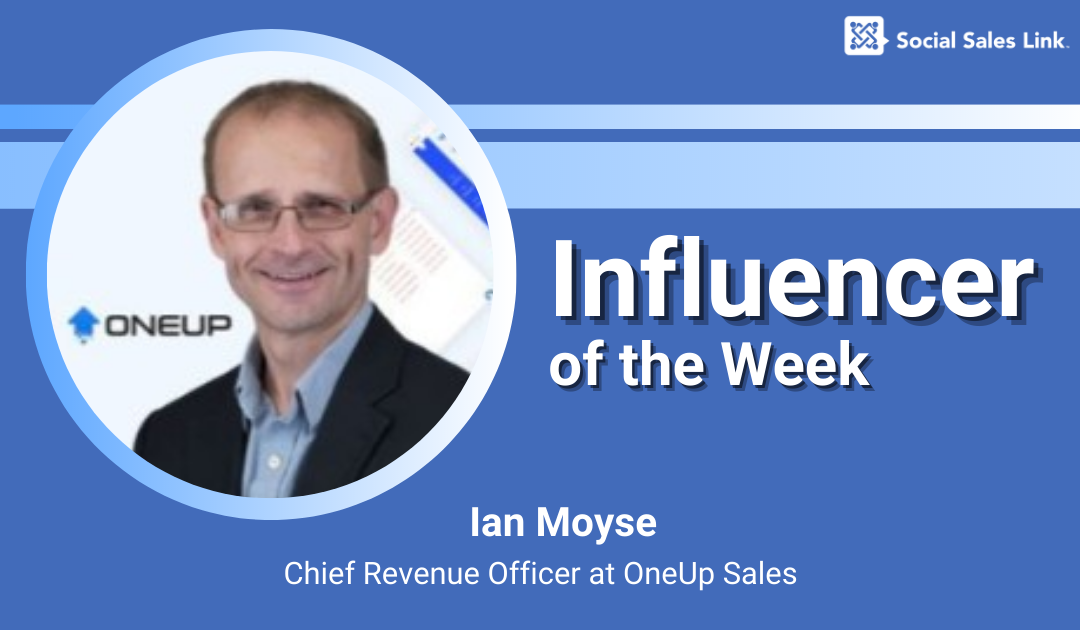 Ian Moyse, Chief Revenue Officer at OneUp Sales
Ian Moyse, Technology Sales Leader, was awarded the accolade of UK Sales Director of the year by BESMA (British Excellence in Sales Management Awards) and was listed in the top 50 Sales Keynote speakers by Top Sales World in 2019 & 2020. Ian has been a regular judge on the Women in Sales Awards (WISA), Top Sales Awards, BESMA, and the UK Cloud Awards. Ian speaks on Sales Leadership, Customer Experience, Social Selling, and Personal Branding. He also appeared in the global Selling from the Heart Champion's list and the global Sales Experts Channel.
Connect with Ian on LinkedIn, Twitter, Youtube, Instagram, or through his website.
Ian's Insights

Everyone has a personal brand and it is more key to understand and address than ever before. If we were not a digital 1st world pre-covid we certainly are now.
Talking to people over Zoom or its like has become habitual to even the non-business or technical person driven by the worldwide work from home we all endured. With this came an increase in having conversations sat in front of and through a screen. As a bi-product of this, we are more likely to check another out online prior or even whilst speaking to them than we ever would in the prior world. You would NOT have had a meeting with someone and in front of them gone on a screen and pulled up their LinkedIn profile for example or searched their name. Now in front of a screen prior to joining a video call you likely will and if on a call you see someone has joined you did not expect of know, who doesn't quickly search them whilst on the call to find out who this person is and their role, etc.
We all have a personal brand, whether you have think you have or not, it is how others perceive you from what is available to them, whether it be in person or online. In today's world, the online persona reaches further and is often the 1st impression people get. Unless you control your personal brand it will control you. You need to be consistent in your brand, what do you want to be known for in an authentic manner, meaning what are you an expert or that you specialise in. Make sure this is how you are represented and use the best picture for the right impression you can (test it at photofeeler.com and don't rely on your own opinion or that of friends and family). Make profiles personable and not matter of fact. Be consistent across profiles, cross-link them, keep them up to date, add relevant content of images, videos, awards, achievements, etc. Check out an example at www.ianmoyse.co.uk and note this added tip of you can brand the link you present to people in front of any website.