Meet Our "Influencer of the Week," Gina Stracuzzi!
|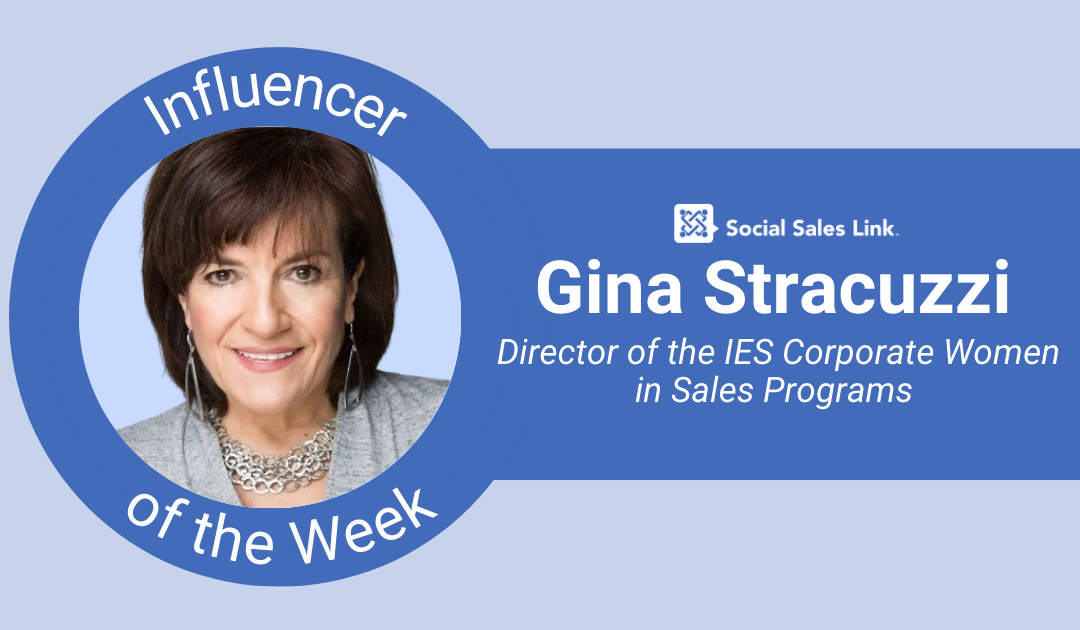 Gina Stracuzzi, Director of the IES Corporate Women in Sales Programs

Gina Stracuzzi, the director of the IES Corporate Women in Sales programs, has been in sales or business development her entire career, which started with selling commodity futures to cattlemen in Texas! For the last 25+ years, Gina has honed her skills as a business development and sales strategist, working primarily with women-owned or led companies in the U.S. and Europe to help them drive revenue growth and develop successful sales strategies.
Throughout her career, Gina has been inspired by the belief that when women thrive, business thrives. This driving passion has allowed her to empower countless women and help them understand and leverage their innate strengths, enabling them to reach the highest levels in their careers and businesses.
It is that same passion that led Gina to co-found and develop the IES Women in Sales Leadership (WISL) Center, a platform that fosters growth, collaboration, and mentorship for women in sales. The WISL Center comprises the WISL Forum, Jr Forum, and WISL Alumni Experience, path-changing programs designed to ensure more women are elevated into sales leadership; the IES Premier Women in Sales Employer (PWISE) Certification for outstanding companies for women in sales; the annual WISL Elevation Conference; and a variety of in-house professional development offerings.
For her leadership, Gina was named one of the Top 100 Most Powerful Women in Sales by the Demandbase and the Women in Sales Club for two consecutive years.
On a personal note, Gina has a daughter in college, two amazing adult stepchildren, and now, one very handsome grandson! She and her husband are enjoying the proverbial empty nest with their two Soft-Coated Wheaten Terriers in Richmond, VA.
Connect with Gina on LinkedIn or visit her website to learn more about her work. You may also join them at their upcoming events, AI In Sales, on September 7th and the Women in Sales Elevation Conference on October 11th & 12th. Visit www.i4esbd.com for more details.
Gina's Insights

In sales, listen more than talk; value your customers' needs over your own, and let them know the real you. It's been said a million times, but it's worth repeating: people buy from people. Listen. Value. Authenticity. These three things will get you long-term customers who will stick with you. It's also worth noting that if the "real you" is only in it for the money, you might want to work on that because it's more obvious than you think.
If you are a woman in sales, make sure you are sharing your perspective with your colleagues, leaders, and customers. Trust your instincts. Believe in your knowledge and share it. Women are great listeners and innately put the needs of others before their own. We are more patient nurturers of relationships, which is why we excel at selling. Embrace and engage your natural gifts, and the sky's the limit!
Join our FREE Content Library and gain immediate access to our vault of LinkedIn training content. Get your daily dose of LinkedIn sales training or Sales Navigator training, with various webinars, videos, podcasts, and ebooks to choose from. We're always publishing new content!