Meet Our "Influencer of the Week," Stan Robinson, Jr.!
|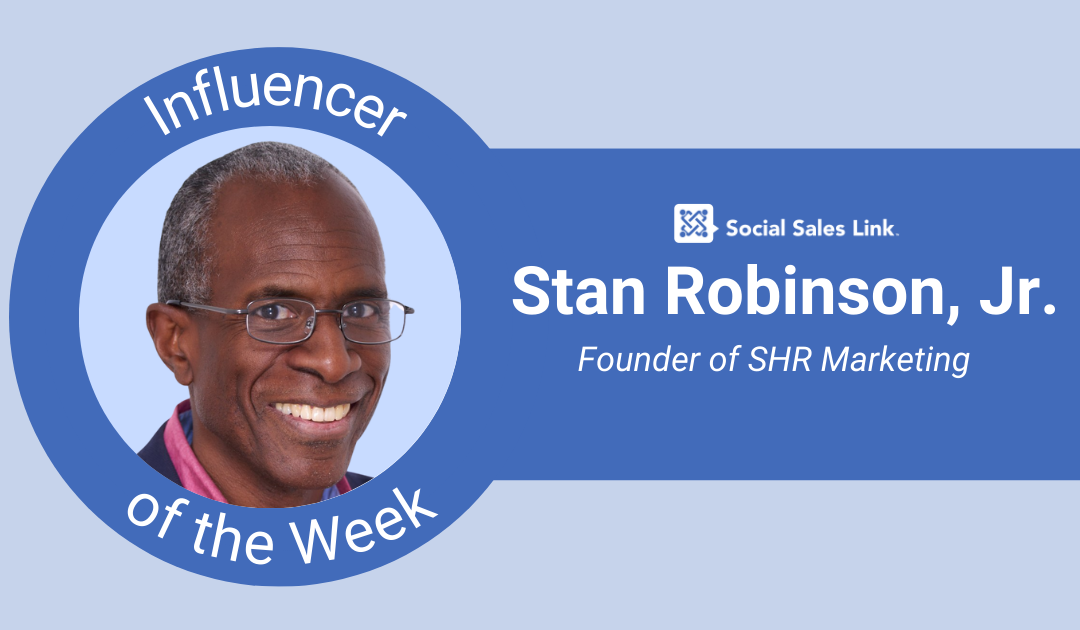 Stan Robinson Jr., Founder of SHR Marketing
Stan Robinson Jr., Founder of SHR Marketing, helps businesses and professionals build relationships and grow revenues using digital tools such as LinkedIn and AI. He specializes in helping clients use Sales Navigator for sales and LinkedIn for branding, marketing, and thought leadership.
With over 25 years of experience in sales and marketing, including 10+ years as a LinkedIn trainer, Stan has worked with clients in industries such as information technology, cybersecurity, financial services, education, law, e-commerce business consulting, media, government, and others.
Connect with Stan on LinkedIn, follow him on Twitter, or visit his website to learn more about his work. You may also reach out to him via email.
Stan's Insights
Never stop prospecting for new business. Even when you're over quota and busy with current clients, schedule some time in your calendar for building relationships with new companies. Keeping your sales pipeline full enables you to hit your number and positions you for success in the upcoming months. Even if your focus is on upselling, cross-selling, and increasing client retention, continue to nurture and expand your relationships within your account base so they never have a reason to look elsewhere.
LinkedIn is an amazing tool to help you find and start relationships with the right people. Features such as the Follow option and the ability to tag individuals in posts and comments help you become more visible to your audience without being intrusive. In addition, LinkedIn enables you to position yourself as a resource for your network when you publish content that is relevant and informative for the community you serve.
When you have nurtured your relationship with a potential buyer by providing value to them, you can earn the right to ask for a meeting. You will want to move your interactions from LinkedIn to phone calls, Zoom, and in-person meetings for your sales conversations.
Join our FREE Content Library and gain immediate access to our vault of LinkedIn training content. Get your daily dose of LinkedIn sales training or Sales Navigator training, with various webinars, videos, podcasts, and ebooks to choose from. We're always publishing new content!