Meet Our "Influencer of the Week," Colleen Stanley!
|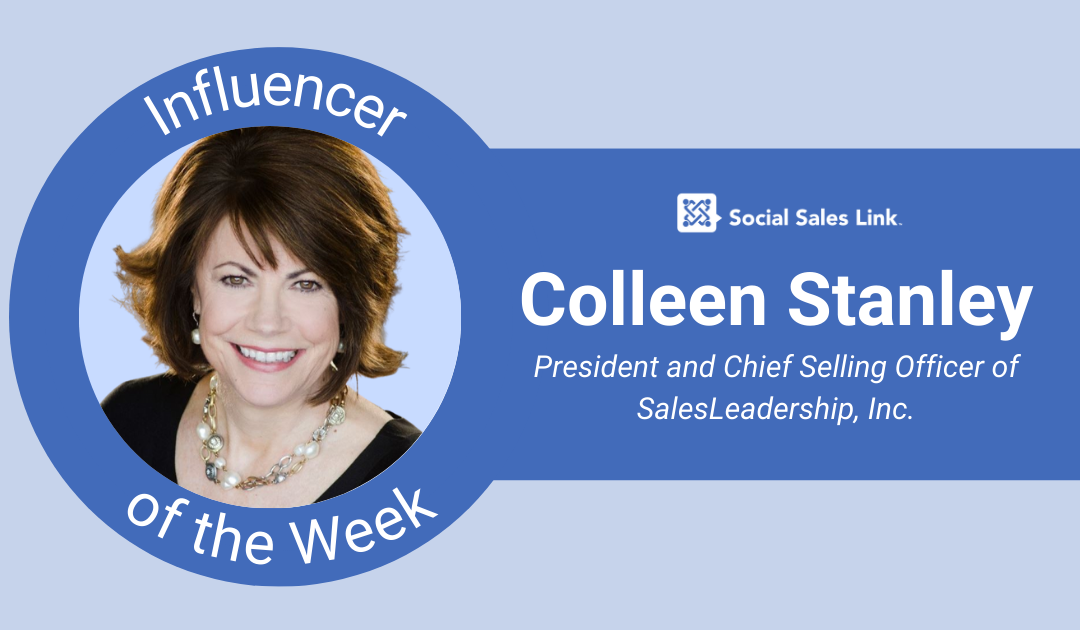 Colleen Stanley, President and Chief Selling Officer of SalesLeadership, Inc.
Colleen Stanley is the leading expert on emotional intelligence and sales. She is the author of two books, "Emotional Intelligence For Sales Success" and "Emotional Intelligence For Sales Leadership." Colleen was also named one of the Top 30 Global Sales Gurus. Her clients include IBM, Harvard Review Poland, Otterbox, PCL Construction, and Pegasystems.
Connect with Colleen on LinkedIn, follow her on Twitter, Instagram, and Facebook. Visit her website to learn more about what she does. Take their Emotional Intelligence Quizzes.
Colleen's Insights

Equip your sales teams with 100 percent of the skills needed to learn, adapt, and master change. Teach consultative selling skills AND emotional intelligence skills in order to execute the right selling behaviors. Self-aware salespeople stop making the same mistakes.
Empathetic salespeople are good at building trust. Salespeople with delayed gratification skills invest time and energy to achieve mastery. Resilient salespeople bounce back quicker from setbacks. Equip your sales team with 100 percent of the skills needed to win and retain business. Soft skills and hard selling skills.
Join our FREE Content Library and gain immediate access to our vault of LinkedIn training content. Get your daily dose of LinkedIn sales training or Sales Navigator training, with various webinars, videos, podcasts, and ebooks to choose from. We're always publishing new content!