Meet Our "Influencer of the Week," Walter Crosby!
|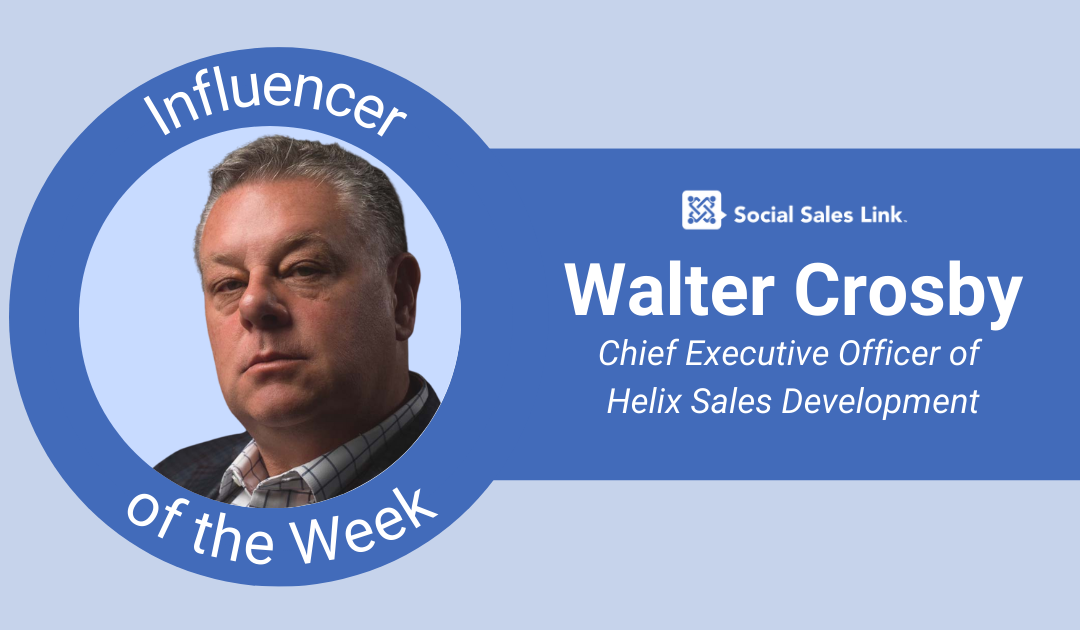 Walter Crosby, Chief Executive Officer of Helix Sales Development
Walter helps CEOs, entrepreneurs, and sales leaders achieve their vision. Most leaders are driven to grow their businesses, but they are unable to do so because of time-consuming sales tasks. They feel themselves being sucked back into the weeds of their business instead of leveling up to reach their goals.
Crosby believes that for teams to win in business, they need a sales framework that optimizes their prospect's journey. The framework and processes he delivers are simple. Creating accountability and attracting sales talent requires a different approach.
You won't find a one-size-fits-all approach with Walter. His process is simple and tailored to each company he works with. He provides solutions for fixing the root causes of a problem, not just treating its current symptoms. For example, if your revenue forecast is unreliable, this is a symptom; correcting the underlying cause is the key to your freedom.
Walter is the author of The 7 Critical Mistakes CEOs Make with the Sales Organization and a contributing author of PodMatch Host Mastery. He recently recorded the 100th episode of his own podcast, Sales and Cigars. He has also been a guest on many business, marketing, and sales-related podcasts.
Connect with Walter on LinkedIn, follow him on Twitter and Instagram, and subscribe to his YouTube channel. You can also visit his website to learn more about what he does.
Walter's Insights

First, stop training salespeople without understanding the sales force first – if you don't know their strengths and weaknesses, how will the training be tailored? Second, sales training will not be sticky nor have an ROI without a coaching plan behind it.
HINT: Your sales manager needs to know how to coach.
Join our FREE Content Library and gain immediate access to our vault of LinkedIn training content. Get your daily dose of LinkedIn sales training or Sales Navigator training, with various webinars, videos, podcasts, and ebooks to choose from. We're always publishing new content!